OVERVIEW
VAMED Medical Instrument Co., Ltd. (following called VAMED) is a high technology enterprise, which is established in 1998, located in High-Tech Developing Zone, Harbor Road, Foshan City, Guangdong Province, People's Republic of China.
ACHIEVEMENT MILESTONES
From 1998, VAMED started to manufacture medical device External Counter Pulsation model MC2 (EECP-MC2). ECP has been widely us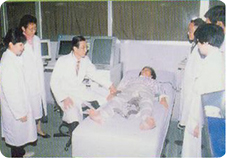 ed in hospitals and clinics, and has got remarkable achievements not only in ischemic heart disease, but in various ischemic damages of other organs including the brain, kidneys, eyes, ears, liver, stomach, even bones and joints. This non-invasive and effective treatment has been accepted by more and more patients. Up date, more than 500 units of ECP-MC2 have been applied in the countries and cities in the world.
The latest in VAMED products line of ECP equipments ECP-MC3 has been launched in the market in 2006. It is incorporate technologies and know-how gained from the development and production of ECP devices for over 20 years. It is represented perfectly of the state of the art of sequential external counterpulsation. All-in-one construction design provides a space saving, beautiful shape, quiet treating environment and reliable quality for ECP treatment centers and clinics.
VISION AND GOALS
VAMED brings together innovative ECP equipment and timely and circumspect service to help customers achieve tangible, sustainable clinical and financial outcomes.
With comprehensive Quality Management System, VAMED offers high technology and stable quality equipment. Quality certificates are guaranteeing exporting license to market ECP product in the whole world, including FDA GMP, ISO9001:2000, ISO13485, USA FDA and CE Mark etc. At same while, VAMED is dedicating to build herself to be a medical device manufacturing platform in future.
SERVICE AND COOPERATION
VAMED offers timely and circumspect service to enable increased equipment availability, optimized performance and workflow efficiency.
VAMED
has set up many local distributors and local service centers to help the customers in various residencies.
VAMED
also cooperate with certificated producers of accessories to fulfill the highest standard for the clinical application.